13 Sep 2022
The Great Northern Contemporary Craft Fair once again brings the UK's top makers to Manchester's iconic Victoria Baths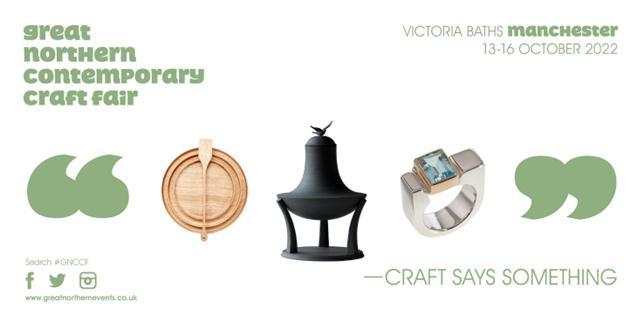 Already a firm favourite with those in the know, the fair offers an unrivalled line up of designer makers from all over the country, each one selected for the quality, desirability, and innovation of their work.
Craft says something in a society obsessed with mass production and throw-away culture. It says that something is unique, joyful, special, and out of the ordinary. It says that something was made with love and built to last. It says that materials were selected carefully and handled with great skill. Craft says all these things and more, and one place to really hear it sing is the Great Northern Contemporary Craft Fair.
Now in its 15th year, the award-winning fair (GNCCF for short) brings us crafted items from designer makers at the top of their game as well as the best of what's new. The result is a craft fair with the confidence to bring us the very best makers working in the UK today, but with a progressive edge that has the power to surprise. Over the years this has cemented its place as one of the top fairs in the UK and a key cultural highlight in the city's autumn calendar. No wonder it has become a must-attend event for exhibitors and buyers alike, attracting both nationwide.
Advance tickets are now on sale via the website. For an opportunity to get a little boost to your spending, anybody who buys advance tickets in September will be entered into a prize draw to win one of 4 prizes of £50 to spend at the fair.