Check Me Bird Out, 2023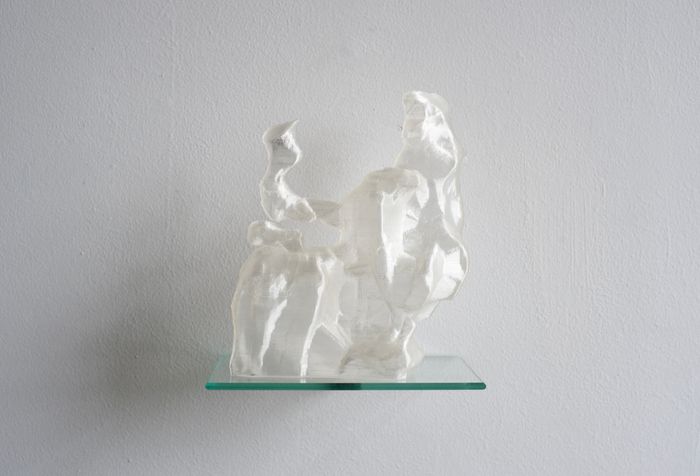 Glass and 3D printed plastic, 180mm x 100mm x 150mm
Check Me Bird Out, 2023, was made in response to visits to the Manchester Art Gallery Stores. Knopf visited the Manchester Art Gallery Stores to 3D scan ceramics from the Collection as starting points for his work. After scanning the top shelf of a storage cabinet, Knopf captured the form of a romantic Ralph Wood ceramic depicting a young man and woman sitting with a birdcage, which became the basis of this piece. Through the process of 3D scanning the object, the composition has changed, becoming abstracted and defamiliarised, leaving only the form of the bird cage recognisable.
"I aim to make the onlooker investigate and question what they are viewing. These sculptures/ assemblages can serve as reminders of fallen empires as these fragments are found, rebuilt, and then pieced together to create new forms and dialogues. It can be said that they embody elements of the past, present, and future in the materials and techniques used to produce them... The process of building these sculptures/assemblages in the manner I have chosen is a reaction to the current world we are living in." - Jeffrey Knopf
Jeffrey Knopf (b.1971) graduated from the University of Salford in 2021 with an MA in Contemporary Fine Art. Following his MA, he was awarded a place on the University of Salford Art Collection Graduate Scholarship Programme, in partnership with Castlefield Gallery. Included in this award was a studio with Paradise Works, where he continues to be based.