The Closest I Got To Freud's Desk, 2023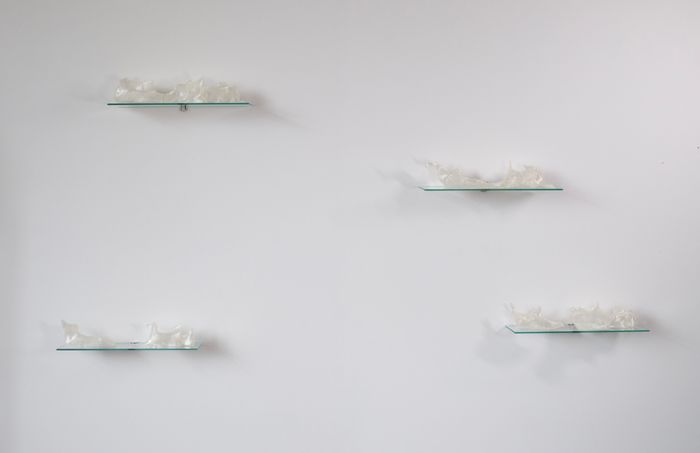 Glass and 3D printed plastic, various sizes.
Inspired by the figures that sit at the edge of Sigmund Freud's desk, the initial concept for this work was to 3D scan the figures or 'the grubby gods' as Freud called them. Acting as a barrier between Freud and his patients, Marina Warner describes the 'grubby gods' as ' tools of thought, the kitchen utensils of imagination'.
Knopf's work often begins with 3D scans of collection objects, however after being denied close access to scan Freud's figures, Knopf attempted to scan on the fly from a distance behind a barrier, resulting in defamiliarized objects that with the help of technology have been pulled into the realm of the Uncanny.
"The obtuse angle and distance have resulted in the scans /3D prints to be distorted beyond recognition, to some they resemble ice flow forms, but I rather like to think of them as memories of something I have seen, which with time has begun to fade, leaving behind vague and Uncanny forms." - Jeffrey Knopf

Jeffrey Knopf (b.1971) graduated from the University of Salford in 2021 with an MA in Contemporary Fine Art. Following his MA, he was awarded a place on the University of Salford Art Collection Graduate Scholarship Programme, in partnership with Castlefield Gallery. Included in this award was a studio with Paradise Works, where he continues to be based.