Companions for the Ladies of Llangollen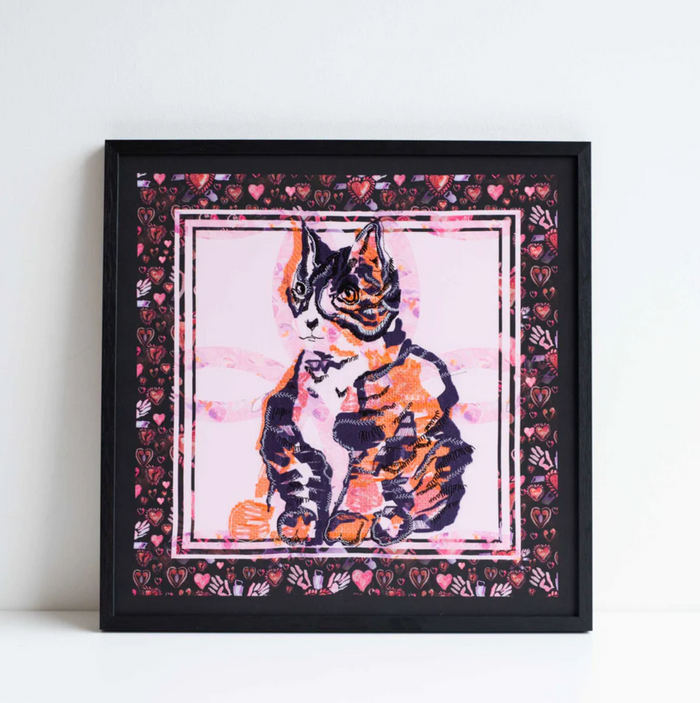 Limited edition historical lesbian cat embroideries by Sarah-Joy Ford.

Black frames - embroideries protected with Clarity Glass.
A note from the artist: "These limited edition embroideries were originally created as part of the central quilt in Beloved, an exhibition at Plas Newydd Historic House and Gardens in Llangollen (Wales). This highly decorated cottage orne was home to Lady Eleanor Butler (1739–1829) and Sarah Ponsonby (1755–1831), who eloped from their families in Ireland to begin a life of exquisite retirement together, escaping the confines of their gendered fates of marriage and the convent. One cat refers to a painting of one of their cats, which still hangs in the house, the other is the ghost cat that appeared to me during my residency."
Frame dimensions: 20.5" x 20.5"
Frame width: 1.5cm
Clarity Glass

Sarah-Joy Ford is an Artist, Post-Graduate Researcher and Associate Lecturer at Manchester School of Art. Ford works with textiles to explore the complexities and pleasures of queer communities, histories and archives. Her practice sits at the intersection of digital and traditional: using strategies of quilting, digital embroidery, digital print, applique and hand embellishment.