Quantitative Melencolia: Melencolia XX - XLIX, 2023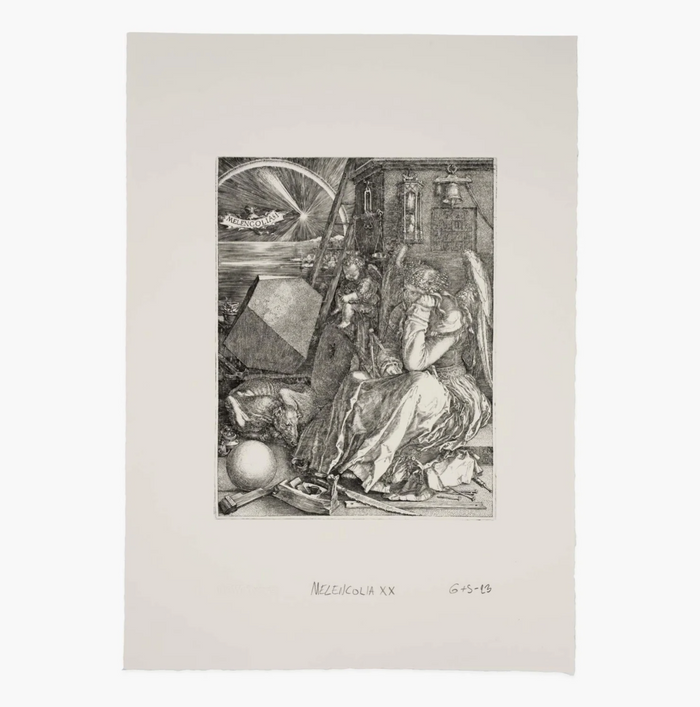 Goldin+Senneby
Quantitative Melencolia: Melencolia XX - XLIX, 2023
Print size: 35.5 x 25 cm
£500 unframed, excluding postage
Handprinted engraving on contemporary cotton paper (edition of 30, edition run 2)
Printed at the Whitworth as part of Economics the Blockbuster exhibition live programme
Stamped by the Whitworth, numbered and signed by the artist.
Conceptual artist-duo Goldin+Senneby have released a reproduction print of Melencolia I (1514) by German Renaissance artist Albrecht Dürer from the Whitworth's collection. The Whitworth's original impression of Melencolia I by Dürer was scanned by security printing specialists, Jura, in Hungary. The microscopic scans captured exceptional detail, including paper fibres and the surface depth of Dürer's mark-making. The scans were digitally re-worked by banknote engraver Gunnar Nehls and then used to laser engrave a replica plate.
This is the second edition of the Quantitative Melencolia project, with a print run of 30 impressions hand-printed live in the Economics the Blockbuster exhibition by printmaker and artist Alan Birch, who has been running print workshops at the Whitworth for over 20 years.
Prints are made in the exhibition space on four dates when visitors can watch Alan Birch live - 8 July, 27 July,14 September and 5 October. Once completed the prints will be ready for shipping or collection one week after their production.
A first edition run was printed on 16th century paper in Sweden by Siv Johansson in Autumn 2022 and consisted of 18 impressions (II-XIX).
To locate the print to Manchester, the paper selected is made from cotton and sourced from James Cropper paper mill (1845) in Kendal, North West England.
Each impression is individually numbered, with the second print run starting at twenty; Melencolia XX.
Quantitative Melencolia is a major new project by artist duo Goldin+Senneby commissioned for Economics the Blockbuster: it's not Business as Usual, an exhibition on art and economy at the Whitworth. This first edition run of 18 engravings was made in collaboration with the Whitworth, to be sold to generate income for the gallery, activating the financial operation of the gallery collection.