26 Jun 2023
Leading art fund to triple in size in 2023 providing Manchester Art Gallery with over £20k to acquire new works in celebration of its 200th anniversary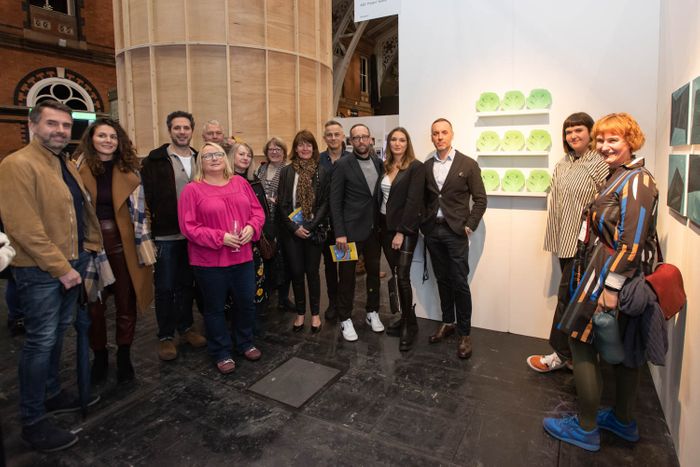 The Manchester Contemporary Art Fund, one of the largest grassroots art funds in the UK, is inviting new members as Manchester Art Gallery celebrates 200 years of collecting. The campaign sees the leading philanthropic fund look to treble in size for 2023, raising over £20,000 for art acquisitions for the public collection of the acclaimed Mosley-street gallery.
Founded in 2017 by Chairman of Manchester Art Fair, Thom Hetherington, The Manchester Contemporary Art Fund seeks to ensure the Manchester Art Gallery collection remains current and contemporary, creating an unbroken thread of works across two centuries showing how artists have responded to the world around them. The works are kept in the venue's acclaimed permanent collection for the people of Greater Manchester to enjoy in perpetuity.
For potential members the Manchester Contemporary Art Fund presents a unique opportunity to be a part of the city's history, attaching their name to the public collection, to be enjoyed by visitors for years to come. It's a privilege largely enjoyed by only the world's greatest collectors who generously gift or bequest work to galleries, with Manchester Contemporary Art Fund making the opportunity accessible to all.
The works will be selected by Manchester Art Gallery's esteemed curators from galleries attending the Manchester Contemporary Art Fair on 17-19 November 2023, providing members with a first-hand opportunity to meet the artists behind the chosen pieces. Members will also be invited to the private unveiling of the works at Manchester Art Gallery complete with talks from the gallery and featured artists.
"This art fund brings together a set of businesspeople who have built their success from the city and who want an opportunity to give something back, to leave a legacy," said Hetherington.
"Acquiring these artworks, that are owned by the people of Manchester and will be displayed alongside Manchester Art Gallery's permanent collection, is an incredibly powerful thing and I think every fund member gets a real thrill out of being part of that process.
"As Manchester Art Gallery celebrates such a significant milestone, we're pleased to invite new members to the fund, with the aim of raising over £20,000 for art acquisitions for the public-collection. It's a significant opportunity to be a part of Manchester's history."
Since its inception in 2017, the Manchester Contemporary Art Fund has raised over £33,000 to help the gallery acquire 18 pieces of work, all directly purchased from The Manchester Contemporary art fair, by artists including Simon Bayliss, William Mackrell, and Juno Calypso.
Natasha Howes, Senior Curator and head of the selection panel at Manchester Art Gallery, said that the fund had been a game changer for the gallery.
"We usually acquire artworks through the generosity of gifts and bequests or by applying to trusts and foundations for support, but to have a fund available where we can make immediate decisions about what to buy, is unique. It enables us to collect with intention and expand the city's collection with artworks by the most engaging emerging artists, ensuring that the gallery stays relevant to today's times," commented Howes.
"The paintings, ceramics, drawings, photographs, and sound works which we have bought over the last six years are significant pieces and have been shown in dialogue with the historic collection. In our anniversary year, as we look back on 200 years of collecting, The Manchester Contemporary Art Fund affords us the opportunity to grow the civic collection for future generations."
Blackburn based gallery, The Second Act, has had the work of two of their artists purchased by the gallery via The Manchester Contemporary Art Fund.
"Securing two artists with significant sales and placing their work into a thoughtfully curated museum collection (one that we rate highly) has been a fantastic accolade for both artists and the gallery," said gallery director Alex Zawadski.
"Our success with the Art Fund is the reason we will be returning to The Manchester Contemporary Art Fair this year and commissioning an artist to make new work for our booth."
The fund's efforts to support rising artists, providing them with a platform through which critical acclaim and greater popularity was recently recognised, with The Manchester Contemporary Art Fund nominated for the prestigious 2022 Achates Philanthropy Prize, the only national annual prize that celebrates first-time supporters of culture in the UK, and the Manchester Culture Awards 2022.
Several of the pieces which have been acquired by the Fund are currently on display in Manchester Art Gallery as part of its 'What's New? Collecting for Manchester' exhibition, which is open until December 2025.
Anyone interested in joining the art fund should apply online at www.themanchestercontemporary.co.uk/mcrcontemporaryartfund with memberships starting from £550.
The fourteenth edition of The Manchester Contemporary takes place at Manchester Central on 17-19 November 2023. Galleries wishing to put themselves forward for a booth and chance to submit their artists to the fund selection panel can email curator@themanchestercontemporary.co.uk
Ends
Supporting Images can be found here
For further media information, including image and interview requests, please contact Julie Wilson on 07873 231615 or Jules@thestrongagency.co.uk
Notes to Editors
Fund Members
2022 members of The Manchester Contemporary Art Fund are Thom Hetherington and Sophie Helm; James and Katie Eden; Mark Garner; Mark Hawthorn; Jeremy and Jane Roberts; Christian Anderton and Sarah Moulson; Lisa Ashurst; Jo and Tom Bloxham; Mark and Toni Hawthorn; Alison Loveday; David Blake and Lucy Noone Blake; Howard Ratcliffe and Melissa Ratcliffe; Jon Sharples; Netanya Clixby and Martyn and Val Torevell and joined in 2023 by Nicolas Konig.
All are from a diverse range of sectors including marketing, property, hospitality, and law; and are united by a pride in Manchester and a belief that inspiring, great art should be available to all.
Works acquired
William Mackrell – Aquarius; Emma Price - Mike I and Mike II; Benoit Aubard – Homesick; Juno Calypso's- How Much Life is Enough; Ian McIntyre - Re-engineered Brown Betty Teapot; Mario Lanton – The Cross; Nina Chua – Marker 210 Marker 2013; Mark Titchner – Some Questions About Us; Jane Benson – Toothache; Nicola Ellis – Return to Ritherdon; Masimba Hwati – Zitye: Second Hand Kings; Simon Bayliss – Ceramic Teapot; Jamie Holman - Sea Fruit; Charlotte Dawson - Cabbage (x3); Simon Bayliss - Jar (Dandelions, after DH Lawrence); and Mary Griffiths - Bread and Water 2.
About Us
EASELprojects delivers arts & culture focused initiatives encompassing art fairs, event & exhibition management services, advisory roles for art funding applications and mentoring services for arts & culture organisations etc. Our portfolio currently includes:
EASEL – online art sales platform