07 Dec 2022
Manchester Art Fair's featuring The Manchester Contemporary ambitions pay off with record-breaking visitors and art sales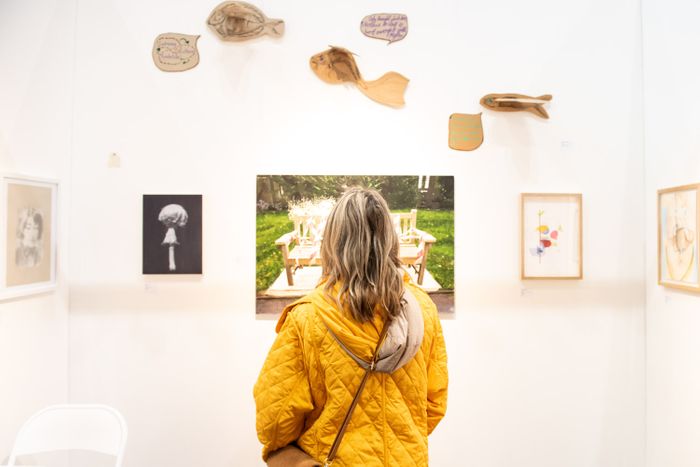 The fifteenth edition of Manchester Art Fair and The Manchester Contemporary was a record-breaking success with more visitors and art sales than ever before making it one of the UK's largest and most significant art fairs. Over 135 UK and international exhibitors took part showing the work of over 500 artists alongside the Jeff Koons designed BMW, a sculpture commission especially for Manchester Art Fair and a programme of talks with leading artists including Ryan Gander and Stanley Chow.
Visitor numbers increased 58% year on year to 13,039 over the three days of the event. Sales of art rose to a record £798,405, an increase of 60% on 2021's record. And the Manchester Contemporary Art Fund provided over £7000 to acquire four more pieces from the fair for Manchester Art Gallery's public collection.
Managing Director Sophie Helm, said "Every year we try to deliver an even better experience for everyone who attends, this year it really had a special buzz and feeling of excitement, that immeasurable 'it' factor. It felt like the whole of the city's arts and culture scene descended on Manchester Central for the three days of the fair. I'm very pleased that we continue to build something which supports independent artists and galleries and proves that the art world in the UK doesn't revolve around London."
2022 was the fifteenth year of Manchester Art Fair, the UK's most ambitious art fair. The event delivered a curated mix of acclaimed galleries and independent artists, blurring the boundaries between traditional and contemporary, creating a friendly, unpretentious and uniquely Northern arts & culture experience.
Joe Wilson, owner and curator of Smolensky Gallery, who exhibited for the first time and also hosted an art event at Ducie Street Warehouse alongside the fair said "It was a life changing weekend for my gallery and the artists I represent. Having their artwork exposed to so many art lovers was an incredible experience."
Manchester-based artist Mercedes Dawson said "As an independent artist I felt that this fair was an incredible opportunity that really allowed for me to showcase my work to a massive and varied audience. The energy and overall community feeling was electric."
The Manchester Contemporary which runs alongside Manchester Art Fair, is supported using public funding by the National Lottery through Arts Council England. The Manchester Contemporary returned with a new centrepiece, a collector's exhibition, and a renewed attention to the work of Manchester-based artists. This year's iteration also featured an exhibitor list that signals the beginning of an international cultural exchange with Spain and South America.
In addition, The Manchester Contemporary Art Fund, one of the largest philanthropic art funds outside of London and recently shortlisted for the Achates Philanthropy Prize and the Manchester Culture Awards, announced four new artworks to join the permanent collection at Manchester Art Gallery.
The artists chosen by Manchester Art Gallery curators are Charlotte Dawson represented by ABS Projects in Blackpool, Simon Bayliss with PINK in Manchester, Jamie Holman from Second Act Gallery and Mary Griffiths who was shown as part of A Modest Show. The pieces will go on show in the gallery in 2023.
Speaking on this year's selection, Thom Hetherington, the fund's founder, said, "This art fund brings together a set of people who have all built their success from the city, and presents the opportunity for them to give something back, to leave a legacy. Acquiring these artworks, that are owned by the people of Manchester and that will be displayed alongside Manchester Art Gallery's permanent collection, is an incredibly powerful thing and I think every fund member gets a real thrill out of being part of that process."
Manchester Art Fair will return to Manchester Central on 17-19 November 2023. Galleries can apply online now at manchesterartfair.co.uk and themanchestercontemporary.co.uk
Ends
Supporting Images can be found here: https://www.dropbox.com/scl/fo/ieq2psbloamqa0wl2xlt3/h?dl=0&rlkey=8kifud8sesh0589ckwtm59bem
For further media information, including image and interview requests, please contact Clare Tams on 01457 851151 / clare.tams@easelprojects.com
Notes
EASELprojects delivers arts & culture focused initiatives encompassing art fairs, event & exhibition management services, advisory roles for art funding applications and mentoring services for arts & culture organisations etc. Our portfolio currently includes
EASEL – online art sales platform
EASEL Bespoke – commercial art consultancy