18 Oct 2022
The Manchester Contemporary 2022: A 'Glocal' Outlook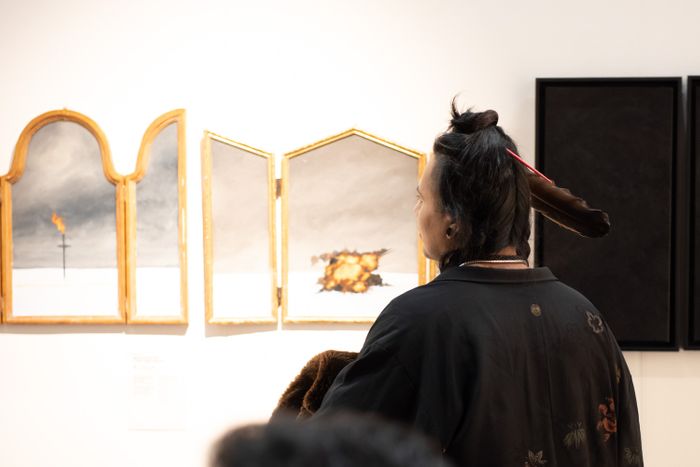 Two spectacles developed via collaborations with Manchester artists are the centrepiece of this year's show, which sets the work of the city's artists within an international context.
The Manchester Contemporary returns to Manchester Central on 4–6 November 2022 with a new centrepiece, a collector's exhibition, and a renewed attention to the work of Manchester-based artists. This year's iteration also trailers a milestone year for The Manchester Contemporary Art Fund, which is gearing up to commemorate Manchester Art Gallery's 200th anniversary in 2023, and features an exhibitor list that signals the beginning of an international cultural exchange with Spain and South America. Curator of The Manchester Contemporary Nat Pitt reflects on the combination of a local focus with a global outlook for 2022, saying: "'Glocal' is the word for this year's show."
At the centre of the fair will be Abstract Kab, a mobile gallery in the back of a van, and In Good Light, a four-metre high cylinder that takes the place of a traditional art booth. For the first time, the show's stands will be split to accommodate these two exhibits, which are the focal point for this year's iteration.
Abstract Kab is the inaugural concept of artists Yelena Popova and Gavin Wade; the van's exterior is a new livery design by Popova, inspired by Russian constructivist El Lissitzky's Abstract Cabinet (1926-1928), with an interior by Wade after Lissitzky's slatted walls and experiments with Frederick Kiesler's L and T-Type Display Units. It hosts Superposition, a sculptural intervention developed by Manchester artist Robin Broadley in collaboration with Luke Routledge and guest artist Pippa Eason. Superposition combines a fictional art installation with an odd job company, with artwork being delivered and removed throughout the programme. "It will look as though Routledge's sculptural characters are milling about and doing things including moving artworks by Eason and Broadley," explains Pitt.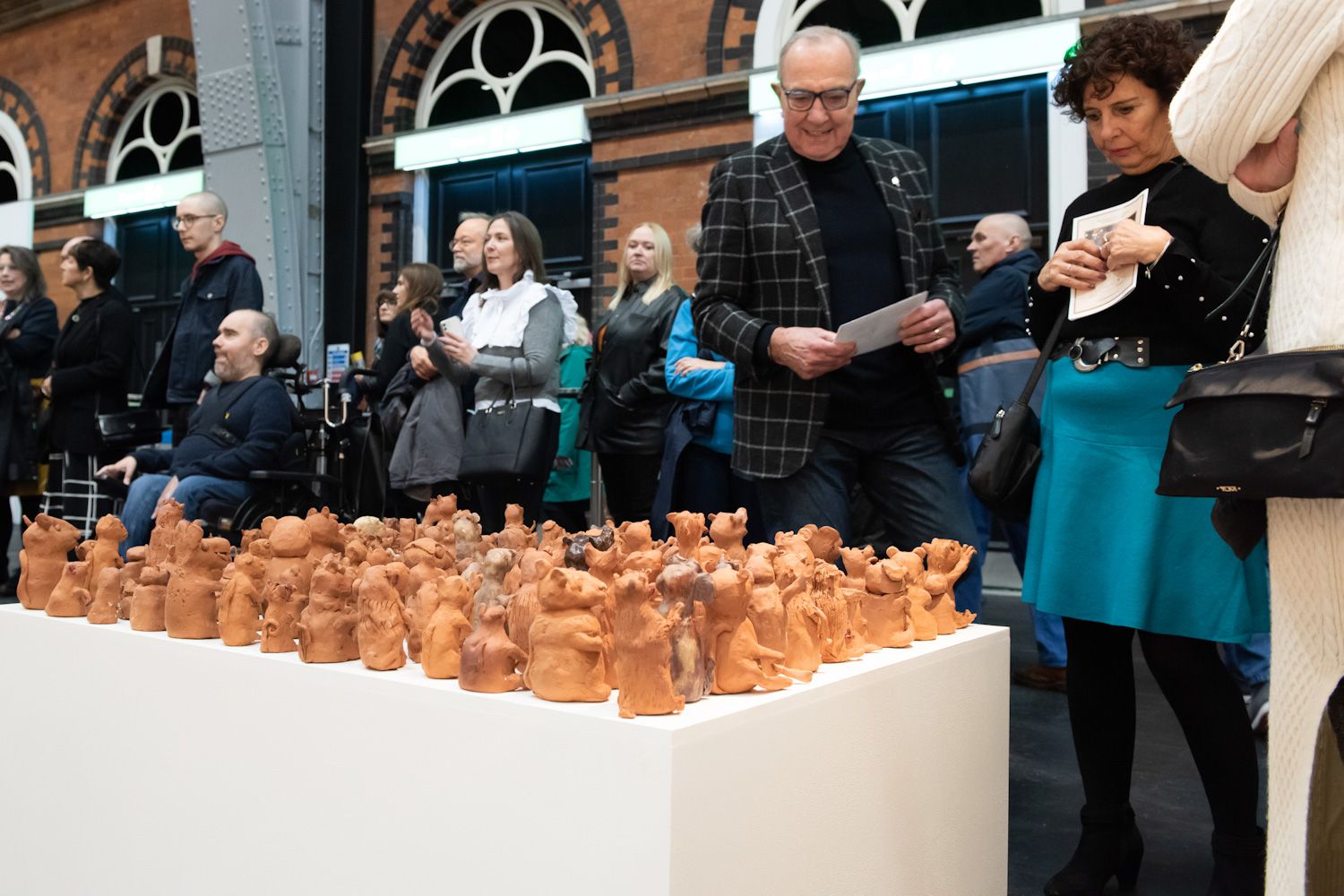 The Manchester Contemporary 2021
In Good Light by Manchester artists Richard Dean Hughes and Robin Megannity challenges the very idea of art booths: large enough for one person to walk into alone, the cylindrical sculpture references the ambiance of an art gallery through its architecture and finishes, simultaneously disrupting this association through mundane and hand-made features. In text written by Megannity, it is described as an attempt 'to realise a hypothetical space that could magnify the dissonance between intimacy and austerity, public and private, virtual and corporal.'
Both installations represent the end of A Modest Show, the official collateral programme of British Art Show 9, hosted by galleries and studio spaces across Manchester in 2022. Pitt, who is also the Curator of A Modest Show, reflects on the close partnership between the programme and The Manchester Contemporary: "It has resulted in a very Manchester-focused roster of artist-led spaces alongside those from the north of the country. At the centre of the fair are these two spectacles – the van and the cylinder – bringing work by Manchester artists to the fore." Pitt also notes that A Modest Show reached artists outside of the city's familiar community: "we met more artists working in Manchester without going to regular events," he says. "I'm really optimistic about this year's Contemporary not being super art world-y, instead with people working in silos or as emerging artists coming together."
Among the list of Manchester-based galleries is PINK, a curatorial project based at SEESAW in Manchester city centre. Returning to The Manchester Contemporary, PINK presents QUEER TEXTURES, an ensemble of work by four UK artists spanning sculpture, painting, drawing, stoneware and ceramics. QUEER TEXTURES sees the use of traditional materials and techniques to reveal and subvert the nature of the objects, addressing contemporary debates around queer identity and practice in doing so.
At the same time, Pitt emphasises that the aim for this year's show was to reintroduce a sense of internationalism, with a specific focus on South American and Spanish galleries. These include Aragón Exterior from Zaragoza in Spain, which has recently curated a series of exhibitions similar to A Modest Show. Curator Daniel Silvo is bringing four visual artists who are either Aragónese or live in Aragón: Cecilia del Val, Jorge Fuembuena, Jorge Isla and Natalia Escudero. Square Art Projects, which curates crossover projects between London and Venezuela, will also be exhibiting: they present recent works by Anglo-Spanish artist Simon Abell, inspired by research into the musical concept of rhythm. Pitt's hope is that this is the start of a new cultural exchange: "The idea is that we can take some Manchester artists to Spain next year," he says.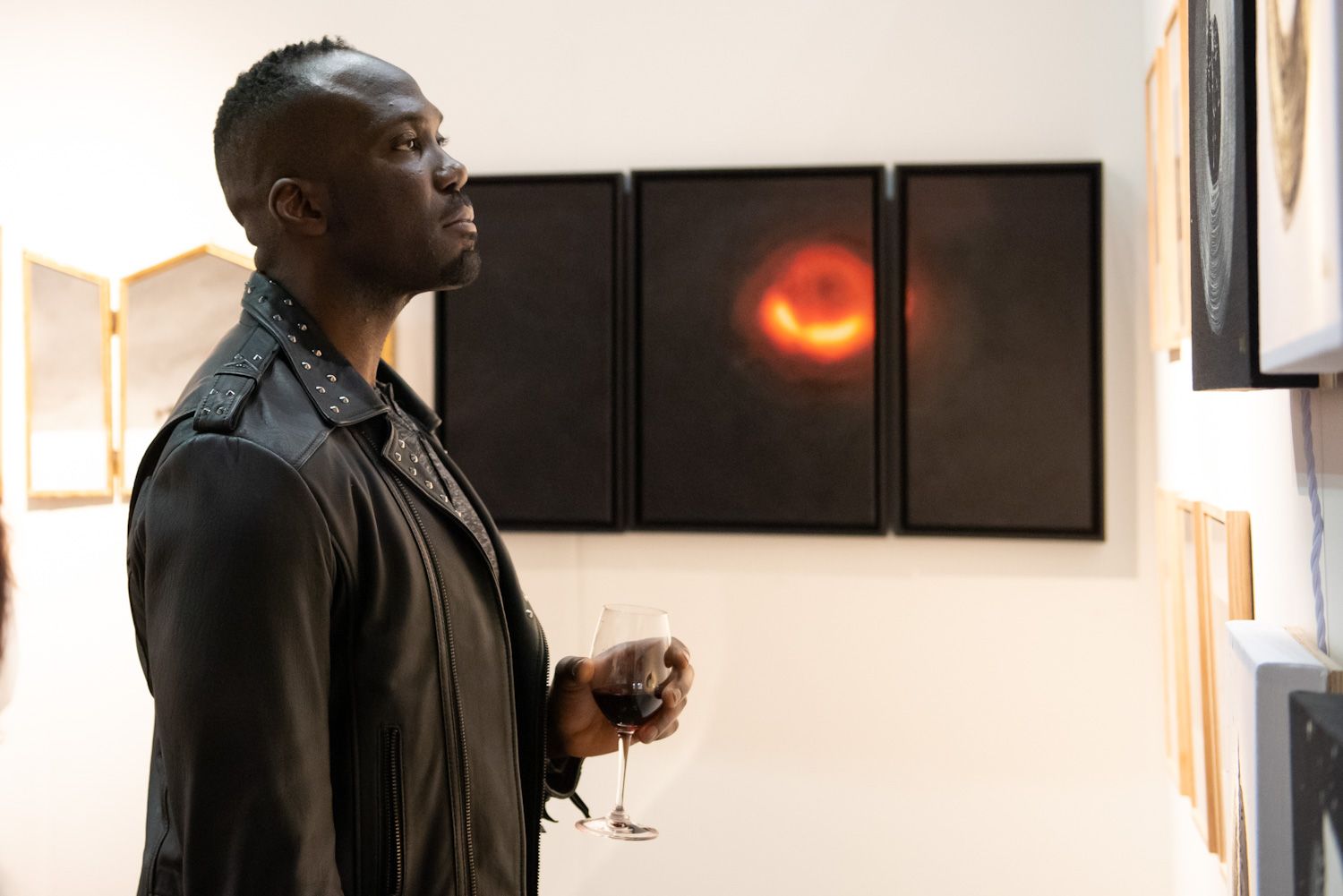 The Manchester Contemporary 2021
Director of The Manchester Contemporary Sophie Helm reflects on this dual approach: "Culture in the North is our passion and The Manchester Contemporary sits at the heart of an ongoing strategy for developing arts in the North. With a uniquely artist-focused approach we invite the most exciting international and UK-based galleries to participate, capturing the strength of the UK's regional artists and galleries alongside key international presentations that can only be seen in Manchester."
New this year is a Collectors Exhibition, designed to remind visitors that the strength of exhibitors Helm describes is also an opportunity to buy cutting-edge contemporary art. An eight metre-long wall will feature work purchased at The Manchester Contemporary over the last 15 years, each piece labelled with the show it was bought at and the name of either a private collection or the individual who acquired it. "It's a test bed to show that people have been investing, and to demonstrate that you can buy art here; it's amazing how many people who visit treat The Manchester Contemporary purely as an exhibition, especially with no prices on the walls," says Pitt. "The aim is to start to talk with collectors past and present – to build a network, and encourage dialogue about what it is to be a collector."
The Manchester Contemporary Art Fund is the public-facing side of this effort: launched in 2017, the fund now has 13 members who have helped to acquire 14 artworks for Manchester Art Gallery's public collection, with the total value of the pieces bought reaching £27,881.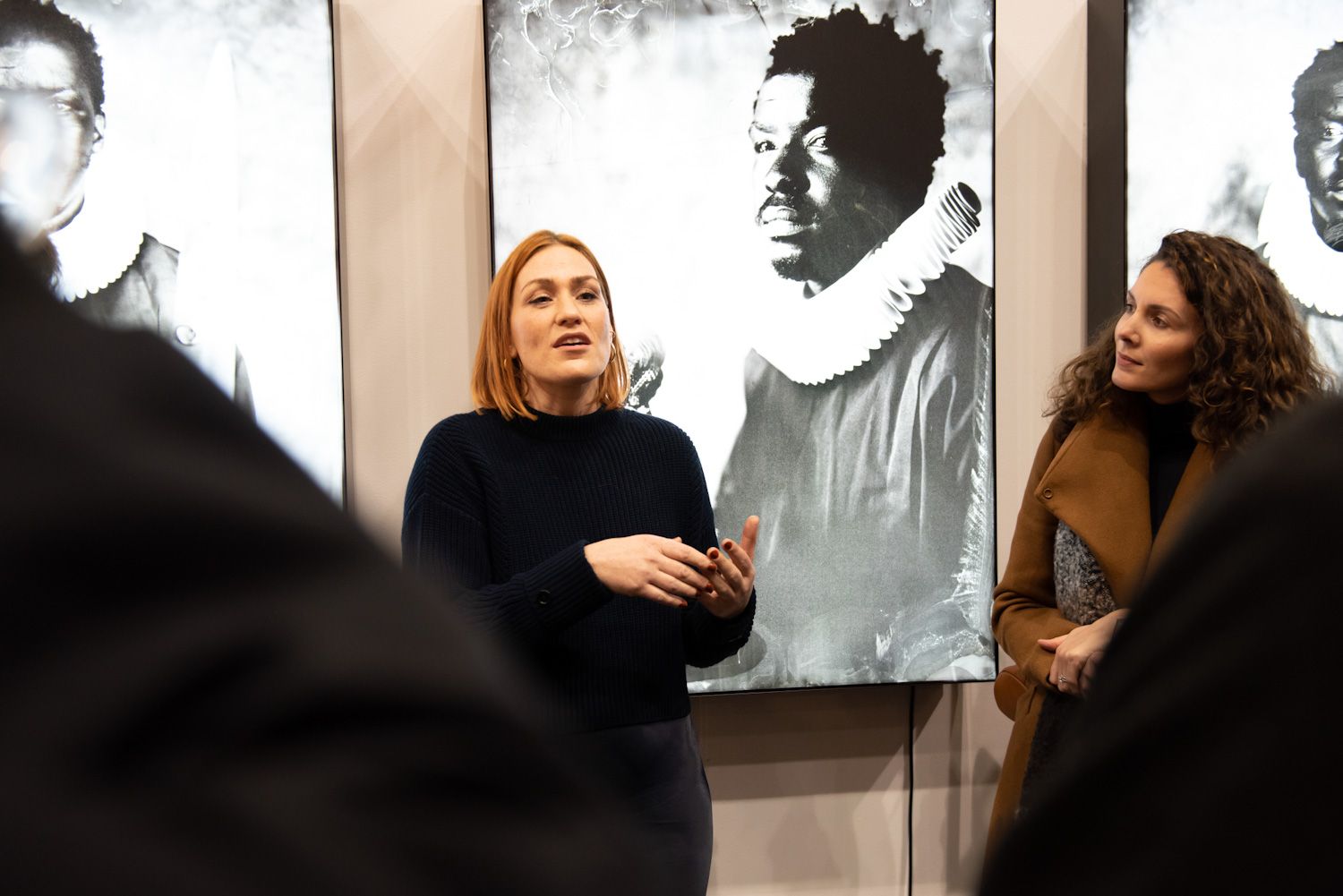 The Manchester Contemporary Art Fund
Reflecting on this success, Thom Hetherington, founder of The Manchester Contemporary Art Fund, says: "The Manchester Contemporary Art Fund has captured the hearts of business people and entrepreneurs across the city. People who have succeeded here in Manchester, because of Manchester. People who recognise the importance of the arts and want to give something back and to leave a mark. We've rapidly become one of the largest regional philanthropic art funds, and to be shortlisted for the prestigious Achates Philanthropy Prize and in the Manchester Culture Awards is a great honour and testament to our impact."
Visitors to The Manchester Contemporary 2022 can discover more about the fund and commissioning process, as well as plans for marking Manchester Art Gallery's 200th anniversary next year. "With Manchester Art Gallery's 200th anniversary looming, we will not be resting on our laurels; we have great plans to ensure the fund will continue to grow and develop to provide a fitting celebration of that milestone," Hetherington says.